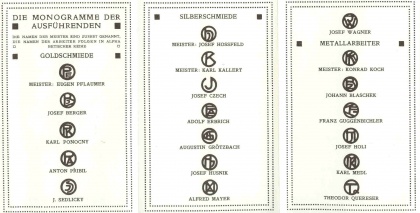 Wiener Werkstätte
Hallmarking on metal objects

Since the late 18th century Austria has had regulations for the hallmarking of precious metal objects, which allow not only stylistic attribution but also visual verification.
Then, the master's marks and the assay marks were subject to the strict control of the marking authority. Also the Wiener Werkstätte, established in 1903, had to comply with this hallmarking requirement for articles of precious metal manufactured in its own workshop. Several marks were used, not only that of the Wiener Werkstätte but also the mark of the designing artists and of the craftsmen who manufactured the object. The marks were used not only on precious metal objects but also on other articles made of bronze, etc.
These marks are essential in identifying the popular collector's items of the Wiener Werkstätte, but they have also attracted forgers.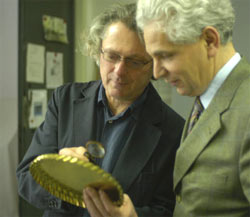 A new method for the verification of marks protects art collectors against forgeries. More than ten years ago, Patrick Kovacs, an expert for art and antiques, and Erich Scheidl, an academic conservator, developed a method for easier handling of hallmarked gold, silver and metal objects. This method is available to the art and antiques market as a safeguarding instrument and allows new and precise presentation of the dual hallmark image (assay mark and master's mark).

The development of the method was prompted by the lack of measurable precision of presentation in photographs: the distance to the object, the size of the photograph and the transformation of a three-dimensional mark into a two-dimensional photograph prevented comparable measuring. Thus, the objective was to develop a method for making comparisons measurable.
K & S Hallmark Scrutiny Vienna - The Kovacs/Scheidl method
The analysis relates to the base of the mark, resulting in a true-to-scale impression that, by comparison with other mark images, provides new findings on use, age and nature of the mark.
The marks of the objects of the Wiener Werkstätte in Viennese museums were the first to be examined using the Kovacs/Scheidl method. So far, a collection of about 300 Wiener Werkstätte marks has been compiled and by means of the Wiener Werkstätte archives it was possible to precisely date the marks used.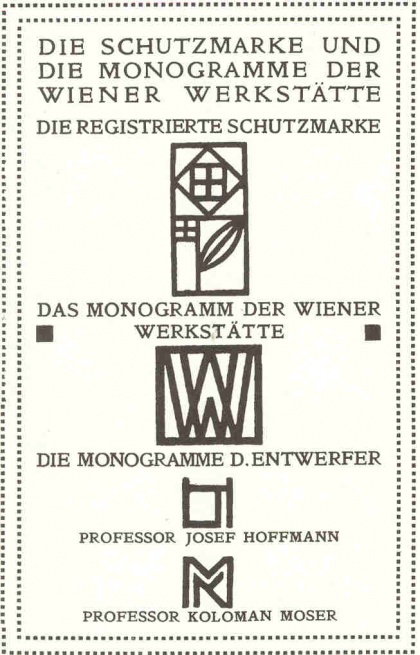 Results
• 1:1 presentation of the mark image
• Placement in time of the mark
• Mark details
• Inspection of the assay mark
• Detection of forgeries
In addition to the examination of the marks, x-ray fluorescence analysis has proved successful for examination purposes. This method is non-destructive and reveals the chemical composition of the material used.
Range of application
• Determination of the genuineness of marked objects
• Identification and verification of datings
• Expertises on marked objects
• Detection of forgeries (expert opinions)
For further reading:Das Ablaufdatum der Punzen. Von Olga Kronsteiner (Standard, 2006).
Selected Literature:
*Waltraud Neuwirth: Wiener Werkstätte. Die Schutzmarken. Band I, Rosenmarke und Wortmarke, Wien 1985.
*Der Preis der Schönheit, 100 Jahre Wiener Werkstätte, Ausstellungskatalog Museum für angewandte Kunst, Wien 2003.