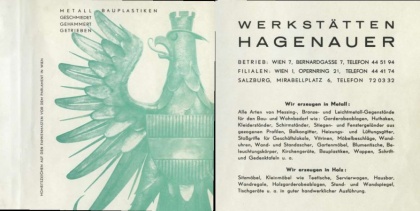 JUST PUBLISHED
WERKSTÄTTE HAGENAUER - old documentation in new light
Patrick Kovacs is known as a specialist and art-dealer of objects of the Hagenauer-studio, a famous manufacture in Vienna since years. Just in time before the exhibition, that starts in Vienna on 17.may 2011, Patrick Kovacs published a reedition of a special catalogue of 1957.
This catalogue contains sheets that were fixed in a map and expanded in the following years. The base of this edited version is the price-list of the catalogue in 1957, where you may find not only the product-number and the name and dimensions of the item, but also the price in D-Mark giving an impression of the value of the different objects.
In edition collectors and art-lovers will find selected [Interner Link 20010 nicht gefunden!].

The catalogue with about 140 pages (Eur 26,40) ist available in our gallery or order online (including postage: Eur 30,-; international Eur 35,-).
The catalogue is published on the occasion of the exhibition "HAGENAUER. Wiener Moderne und neue Sachlichkeit" in the Wagner:Werk Museum Postsparkasse Vienna.