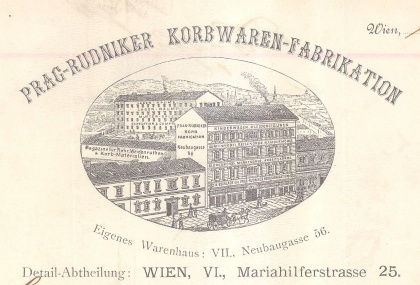 Prag-Rudniker Korbwaren-Fabrication (Basketwork Factory)
The "Prag-Rudniker Korbwaren-Fabrication" had its origins in 1877 in Rudnik (Galicia), where Ferdinand Ernst Count Hompesch established a wickerwork school. Distribution of the products was done by the Prague merchants Karl and Josef Kraus. Eventually, Karl and Josef Kraus founded Prag-Rudniker Korbwaren-Fabrication, registered in the trade register in 1886. The head office was located in Prague and was moved to Vienna in 1910, where a branch office had existed in Mariahilfer Straße from the outset.

Prag-Rudniker quickly developed into a major trading company that boasted to be the "largest wickerwork company of the continent". The company had about 2,500 employees, with factories in Budapest, Prague, Rudnik and Vienna and additional branch offices in Germany, France, England, the Middle East and the United States, thus being represented worldwide.
While the production of Prag-Rudniker at first was still heavily modelled on English and American designs, at the turn of the century the company decided to become the first wickerwork manufacturer to produce artist-designed serial models. A similar approach had already been adopted by Thonet Brothers and J.& J. Kohn in the field of bentwood manufacturing a few years earlier. The innovative wicker furniture of Rudniker became widely appreciated as designs of art, as they were no longer considered anonymous everyday objects but were published in art magazines and presented at exhibitions.

The company's leading designer was Hans Vollmer (1879-1946), a student of Josef Hoffmann, who, working for Rudniker from 1901 on, introduced the square and cube shapes to the design of wicker furniture. Apart from willow withies, also rattan - made of palms - was used. The frame structures were made of domestic elm wood, a particularly hard and pliant kind of wood.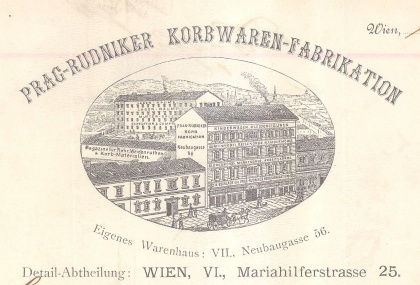 Around 1900, the company eventually started to manufacture a new product line, using a combination of wood and woven surfaces that was again inspired by English and American example and gave rise to a variety of different chairs. One of the rocking chairs, for example, bears resemblance to a model by the American artist Gustav Stickley (1858-1942).

When Vollmer started to work freelance as an architect in 1905, Wilhelm Schmidt (1880 - after 1928) became his successor as main designer of Prag-Rudniker and in 1903 was promoted to a leading position: "… the majority of the beautiful and solid furniture of this company was designed by Schmidt. This furniture is not merely made of wickerwork, but especially the better parts require a good deal of joinery work".
Schmidt, also with Rudniker from 1901 on, had also been a student of Josef Hoffmann, which explains why he, too, put a strong focus on geometric figures.

In addition to Vollmer and Schmidt, also Koloman Moser may be mentioned as one of the major designers of Prag-Rudniker. He designed several chairs in geometric shapes with chequerboard coverings, which were part of the interior furnishing of the Klimt exhibition at the Secession building in 1903. On this occasion, also the black-and-white armchair model was exhibited, which was used in the Purkersdorf Sanatorium and is also attributed to Kolo Moser in collaboration with Josef Hoffmann. In this chair the weavework was reduced to the seat. It appears to have been a special design that did not enter series production of Prag-Rudniker.
Repeatedly, Prag-Rudniker pieces of furniture were used as design elements in exhibition rooms. Models without fabric upholstery were designed as "porch and vestibule furniture", upholstered seating furniture was intended for "reception and conversation rooms". Often, the furniture was presented on carpets that were also part of the company's product range. The upholstery fabrics were mostly supplied by the Viennese company Backhausen & Söhne.

Major customers of the furniture assortment, which comprised stretchers as well as rocking chairs, wicker beach chairs, fire screens, paper and laundry baskets and children's furniture, were mostly hotels, restaurants and sanatoriums, in addition to private persons.
Subsequently Prag-Rudniker widened its product range to include wooden furniture without weaving elements, partly painted white, and specialities like wooden furniture covered with "raffa" strings, wall claddings made of woven cane fabric and garden tents.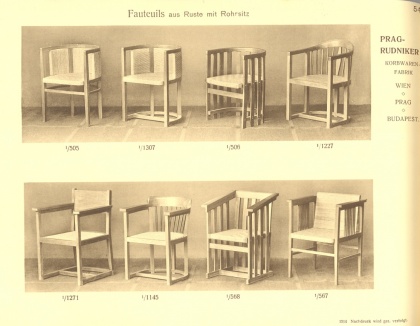 In the company catalogue, which was published around 1910, the company underlined the "innovations manufactured according to designs of leading Viennese artists".
In addition to Adolf Holub (1882-?), Joseph Urban (1872-1933) and Otto Prutscher (1880-1949), around 1909 also Josef Zotti (1882-1953) could be recruited as new major designer.
Arts and crafts in Vienna at that time were undergoing a transition from a stricter geometric-constructive design language towards more decorative styling. This was also reflected in the furniture designs.

Of course, the large success of Prag-Rudniker attracted competitors who, however, did not really succeed in challenging the company's leading position. Prag-Rudniker Korbwaren-Fabrication existed until 1965.


Selected literature:
Das Interieur, Wiener Monatshefte für Wohnungsausstattung und angewandte Kunst, Wien, Bd.4, 1903, S.201-208.

Paul Stefan: Architekt Wilhelm Schmidt, in: Illustrierte kunstgewerbliche Zeitschrift für Innendekoration, Darmstadt, Bd. XVII, 1908, S.140-154.

V. J. Behal: Die "Prag-Rudniker Korbwaren-Fabrication"; in: bauforum 129/1988, S.37-39.

Eva B. Ottillinger, Korbmöbel, Salzburg-Wien 1990, S. 99-118.