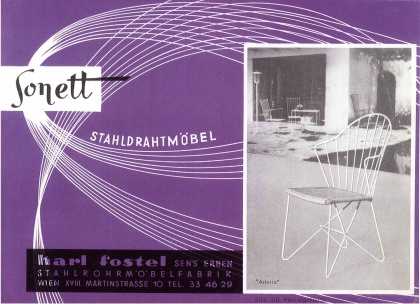 Steelwire furniture Karl Fostel Sen.'s Erben, Vienna
After the Second World War, the tubular steel furniture factory Karl Fostel Sen.'s Erben, founded in 1890, specialized in modern outdoor furniture made of steel and light metal. At No 10 Martinstraße in Vienna's district Währing, where the company had originally produced tubular steel beds, including such models as the "Gaspipe" child's bed or the "Divan" bed, but also brass beds, bedside cabinets made of angle iron, washbowl stands, clothes racks, and the like, one could suddenly hear such telling names as Roma, Lido, Capri, Hollywood, Bari, Grado, Amalfi, Fiume, Roma, Paris, and Flirt.
Based on the tradition of metal furniture, the company developed the series "SONETT" as a product line for modern garden furniture, in line with the international trend prevalent after the Second World War. Outdoor furniture made of iron had already been known in the 19th century; now, through the use of tubular steel and steel wire, new forms were being conceived. Innovative interior decorators in Vienna had already recognized the design quality of these materials during the interwar years, as illustrates a surviving documentation of a suite of furniture by the furnishing house Haus & Garten.
The model "Primus" of the Sonett series seems to be a continuation of that type by the company Fostel Sen.'s Erben from the 1950s. What is new is the use of steel wire instead of tubular steel, which allows more variable outlines. This becomes particularly evident in the models "Auersperg" and "Astoria" from the early 1950s. The model "Auersperg" was made in collaboration with the architects V. Mödlhammer and J. O. Wladar, who in 1952 lent the winter garden of the Auersperg Palace "an elegant and tasteful note according to the latest knowledge in architecture and interior decoration."(Das Moderne Heim, Österr. Zeitschrift für Architektur, Innendekoration u. Gartengestaltung, Folge 12/13, Wien 1954, S. 369)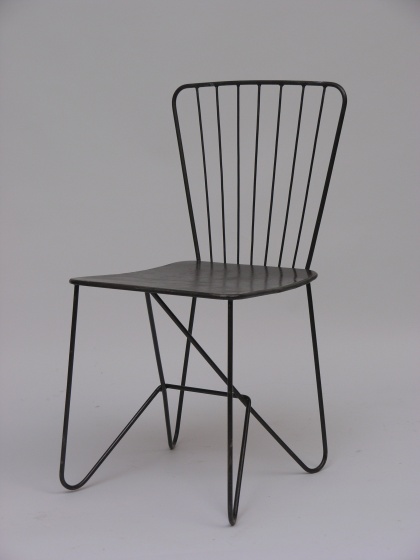 The model "Astoria" features a similar design, with crossed legs and a backrest pulled to the front.
The furnishings for the Café Wintergarten, likewise produced by Fostel Sen.'s Erben around 1955–60, were based on designs by the architect Anna-Lülja Praun: this time, white lacquered tubular steel was combined with woven cane.
Whereas the early outdoor chairs in the Sonett series were covered with cane, wood, or textile, later on mostly sheet steel, perforated sheet iron, synthetic boards, and plastic upholstery were used for the seats and backrests. This range was expanded by plastic cord coverings, and, in the early 1960s, by seat shells made of fibreglass-reinforced polyester resin (in the colours citron, cherry, azure, and mouse grey) or of "Pagholz", a type of moulded plywood. The stackable model "Viola" was designed by the architect Niedermoser.
Fostel Sen.'s Erben attached great importance to both modern designs and a high product quality. All pieces of furniture were highly wear-resistant and durable and took into account ergonomic requirements. Sonett was registered as an international trademark, and new product developments were protected through patents.

Selected literature:
Kataloge aus dem Firmenarchiv Fostel Sen.'s erben, Patrick Kovacs Kunsthandel.

Eva B. Ottillinger (Hg.): Ausstellungskatalog Möbeldesign der 50er Jahre. Wien im internationalen Kontext. Museen des Mobiliendepots, Wien 2005.